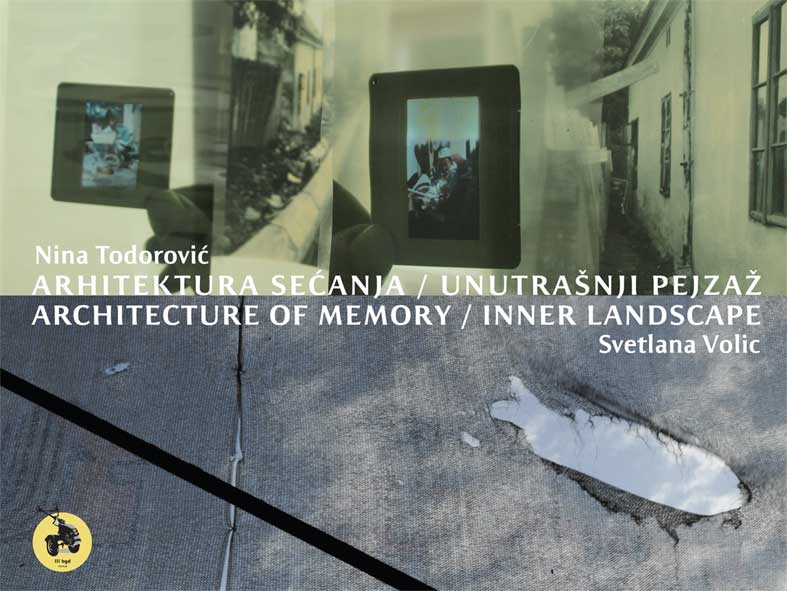 Catalog of exhibition http://issuu.com/svolic/docs/architectureofmemoryinnerlandscape_

The exhibition is meant as a visual dialogue between two artists, Nina Todorović and Svetlana Volic. They are both rendering the city and immediate surroundings of where they live. As witnesses of changes in urban and architectural plan within a specific historical moment, and the changes that these processes leave on mental and spiritual maps of the individual and the community, the two artists put special emphasis on personal family histories and earliest childhood memories. The exhibition comprises of lambda prints, ambiance arrangement and video installation.
Nina Todorovic's ARCHITECTURE OF MEMORY project is a series of photographs that has gradually developed over the past ten years, making photographic records of locations in a transitional phase from rubble [ruins] into a newly constructed building. The photographs represent a problem and play between the intimate/inner and public/outer, raising the fundamental question whether the demolition of the old house forever erased the memory and the 'genetic code' that it carried, or whether it is added to and connected with the memories of the new building. The history and the memory of the old dwellings, become literally embedded in the memory of the building under construction.
Svetlana Volic's series of photographs entitled INNER LANDSCAPE was shot over the years 2010 and 2011 during the upgrade of two floors of the building where the artist lives. The entire facade of the building was covered with a protective semi-transparent fabric, significantly changing the living conditions and the view through the windows. This shrouding of the building completely changed both the aesthetic and semantic interpretation of any observations. The photographed scene is always the same; the look through the window to the street where the artist lived since her birth. Through this impressionistic approach, the photographs are intended to register changes in light, colour and atmosphere during different seasons or times of day.
Listen interview on Radio Beograd 2 with Nina Todorovic and Svetlana Volic about exhibition (authors: Ljiljana Mandic and Snezana Stamenkovic) >>> www.svetlanavolic.in.rs/files/Arhitektura secanja-Unutrasnji pejzaz.mp3

For more information about the exhibition and project, check out:
www.innerarchitecture.blog spot.com
https://www.facebook.com/ ArchitectureOfMemoryInnerLa ndscape